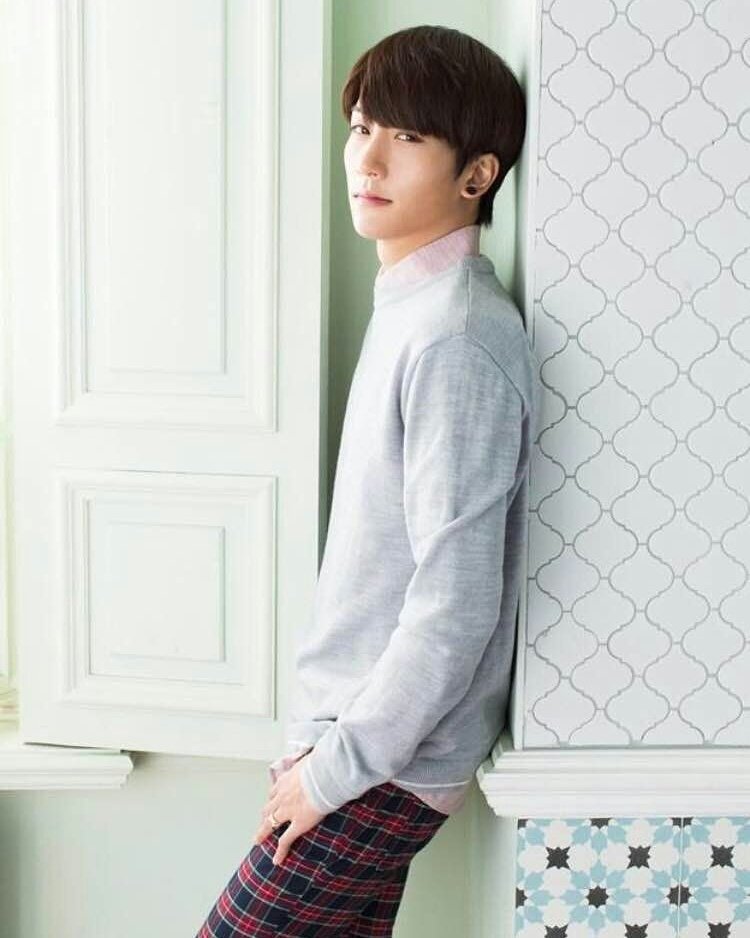 | ALONE |
An Angst Songfic by Atatakai-chan
starring Prince Mak of JJCC
.
.
どこでかけ違えたのだろう
(When did we do wrong?)

今となれば分からない
(I can't even know now)
Henry Prince Mak, atau yang lebih dikenal dengan nama Prince itu duduk terkulai di sofa berwarna tosca. Rak-rak buku yang mengelilinginya sama sekali tidak menarik perhatiannya, padahal ia adalah orang yang sangat gemar membaca.
Helaan napasnya menandakan ada yang tidak beres. Ada sesuatu yang menghantui pikiran pria bubbly  itu.
.
.
彷徨うようにStep out
(As if I'm wandering, I step out)

もう後戻りはできない
(there's no turning back)
"Sudah terlambat…" suara Prince terdengar sedikit lebih keras di dalam studio yang hening.
Perhatian beberapa orang mulai tertuju ke arahnya namun ia tidak menghiraukan satu pun karena ia sudah tidak peduli lagi.
.
.
キミはその瞬間何かを抱いて
(At that time,you have something in your mind)

down, down, down, down

震えるその身を置き去りにして
(You leave your trembling body)

どこへ向かう
(where are you going for?)
なぜ運命のまま
(Why don't you follow your destiny)
最後のカードをかざさず
(not to hold over the last card?)
That shows the shape of your fortune
Ketika acara talent show beberapa tahun lalu itu berlangsung, ia berharap menjadi pemenang. Ketika nama-nama pemenang selesai diumumkan seluruh tubuhnya bergetar, ia menangis -namun tangisannya bukan tangisan bahagia melainkan tangisan kepedihan, namanya tak disebut.
Namun dukanya hanya berlangsung sementara, di hadapannya berdiri seorang pria dengan senyum ramah menawarkan kesempatannya padanya. Dan ketika itu ia benar-benar merasa beruntung.
Beruntung? Entahlah. Prince merasa beruntung untuk beberapa hal, salah satunya adalah menjadi seorang anggota idol group  di bawah bimbingan Jackie Chan.
.
.
信じられないまま
(I still can't believe it)
Is it Ace of Spades or the only Joker?
Tetapi hanya itu. Sisa lain yang ia rasakan hanyalah hardship. Lahir dan dibesarkan di Australia… Jangan salahkan dirinya kalau ia sama sekali tidak bisa berbicara bahasa Korea.
Orang yang tidak berkomunikasi lebih mudah terserang stress, itu kata beberapa ahli. Dan itu memang benar adanya.
.
.

希望をつなぐ未来もRun out
(Even the future that keeps hope runs out)
Suaranya tak kalah merdu dengan suara sang lead vocal, Eddy. Gerakan tarinya bahkan lebih enerjik ketimbang si leader Simba. Siapa raja beatbox di JJCC? Semua orang tahu dialah rajanya. Beatbox sambil menyanyi? Itu semudah mengedipkan mata bagi Prince Mak.
Dengan kemampuan sebanyak itu, semua orang tentu dapat serta melihat masa depannya yang cerah. Tetapi bagi Prince Mak masa depan cerahnya itu berada di luar jangkauan.
.
.
このままずっと、ずっと、ずっと You're Alone
(You will always, always, always be like this, you're alone)
Sepuluh menit lagi broadcast akan segera dimulai. Namun di sinilah Prince Mak hanya duduk termangu, menyaksikan rekan-rekannya yang saling berbicara dengan satu sama lain dengan bahasa yang sangat asing baginya.
Tanpa kehadiran Eddy, bahkan Simba sekalipun tidak dapat membantunya.
---
Author's note:
Fanfic ini dibuat dalam rangka menanggapi berita mengenai keluarnya Prince Mak dari JJCC yang tentu saja memberikan sayatan bagiku. Namun demikian, aku akan tetap menghargai segala keputusan yang diambil oleh pria Chinese-Australia itu karena hanya dirinya yang tahu apa yang terbaik untuk dirinya sendiri.
A Songfic based on Alone by U-KISS